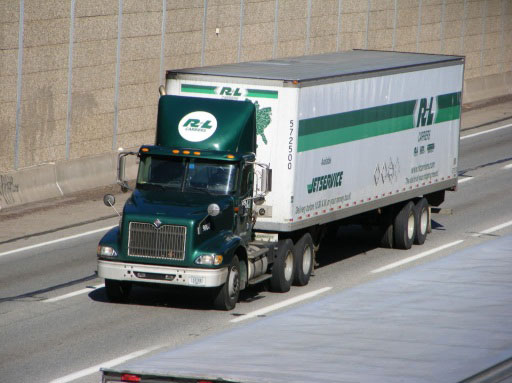 SHIPPING RATES AND INFORMATION
Zoom Blowers doesn't own or operate any trucks or shipping service; we receive the best possible discount from our freight carriers, extending lower rates to our customers. Free and flat rate shipping is available ONLY during special promotions and events. Please contact us for more information.

GENERAL SHIPPING INFORMATION
Zoom Blowers's products range from small packages weighing only a few pounds to large freight orders requiring dedicated trucks. Our customer service and logistics teams work diligently to ship your products quickly, accurately, and cost effectively to arrive at your location damage free. Please review the following shipping information to better understand the process.
Information you need to know before ordering:
We recommend that you order at least 2 weeks prior to your event date. If you MUST have your product delivered on a certain day and at an exact time, we ask that you arrange to pick up your order from our distribution center. That is the only way you can be 100% guaranteed that your delivery experience will be perfect.
We ask that you verify the "Ship To:" address listed on your quote for accuracy. Re-consignment, re-delivery, or storage fees are the responsibility of the customer.
Large packages will ship ground freight.
You may need a forklift to unload your deliveries. Most of our freight products are very large items (long poles, long skids, heavy materials, etc.).
Extra fees will apply for lift-gate delivery. To avoid additional charges after placing your order, please notify your customer service representative if you will need this service prior to completing your purchase.
Extra fees will apply for lift-gate delivery. To avoid additional charges after placing your order, please notify your customer service representative if you will need this service prior to completing your purchase.
- A signature upon receipt is required for all freight deliveries.
- Any customer who arranges their own shipping (on their account) will be charged a fee of $125. This fee covers the time needed to fill out the additional paperwork required to work with a shipping company not contracted with us.
- There is no additional charge for customer pickups/self-pickups.
- Freight rates are subject to change without prior notification.
As Zoom Blowers neither owns nor operates freight trucks, we do not have any control over the freight company's driving skills or exact delivery times.
- All large orders will be shipped from Zoom Blowers's Distribution Center
- This is an example of a typical large tent shipment when leaving our distribution center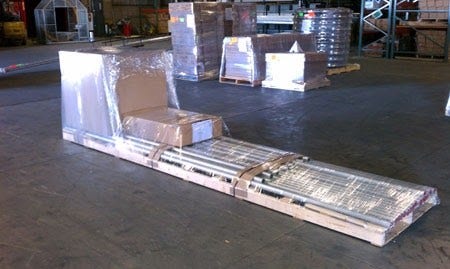 You will receive an email from Zoom Blowers that will contain your Freight Carrier and the tracking number. With freight, you MUST track it through that freight carriers website. Our tracking email contains all the links you need. If you do not receive an email, please call us at: (888) 322-5606 and we can help you -- or, email us at: info@tentandtable.com.

INFORMATION YOU NEED TO KNOW WHEN RECEIVING A SHIPMENT
All shipments are loaded on the freight line damage-free, properly packaged for transit, and signed for as such by the freight carrier. Zoom Blowers's responsibility for the product ends at that point and the freight carrier assumes responsibility. If there is damage, please note the damage on the delivery receipt.
As a service, Zoom Blowers will assist the customer in filing freight claims for prepaid shipments under the following conditions:
- Customer inspects the shipment before signing the Delivery Receipt. The Bill of Lading will list the quantity of skids and/or bundles of poles you should receive with your order. Please refer to the Bill Of Lading to confirm you have received the correct number of skids.
- Customer notes all damage and shortages on the Delivery Receipt.
- Customer notifies Zoom Blowers within 3 working days of the shipment's delivery of all damage and/or shortages.
- Customer documents all damages with photographs. Email the photographs to your customer service representative when initiating claim.
Failure to note shortages and/or damages on the delivery receipt and/or failure to notify Zoom Blowers within 3 working days of the delivery constitutes a waiver of claim. Customer will then be responsible to recover any charges incurred with replacing damaged goods. Freight claims for third party and/or collect shipments are the responsibility of the customer. Enclosed in your shipment you will find a packing list. Please unpack the freight and check your order thoroughly as soon as possible. The freight driver may not be willing to wait while you inspect your shipment along with the packing list provided. Please be sure to confirm all skids and/or bundles that are listed on the Bill of Lading have been received before signing the Delivery Receipt. ANY DISCREPANCIES MUST BE REPORTED WITHIN 3 DAYS OF RECEIPT OF SHIPMENT.
INTERNATIONAL SHIPPING RATES
Zoom Blowers will calculate shipping to the port of export or your Freight Forwarders US Warehouse. Please provide your customer service representative with that information so they may calculate proper shipping rates.
International door-to-door service is only available to Canadian customers.
Standard Transit Times (Domestic Ground)
We ship from New York. Freight transit times are NEVER GUARANTEED -- PLEASE CONTACT YOUR SALES REP FOR APPROXIMATE TIMES.
Will my purchase ship Parcel (Fed Ex or USPS)?
Depending on the size of your order, the most economical way to receive your product may be small package. Your customer service representative will help you determine if this is the case. If this is your preferred way to receive your material, some large shipments can be shipped parcel but may have additional charges based on the size. Please see the guidelines below.
- Packages can be up to 150 lbs (70 kg).
- Packages can be up to 108 inches (270 cm) in length.
- Packages can be up to 130 inches (330 cm) in length and girth combined: Length + (width x 2 + Height x 2).
- Packages with a large size-to-weight ratio require special pricing and dimensional weight calculations.
- If a package is over 130 inches after calculating the girth, there will be an extra charge.
- If a package is over 108 inches in length, there will be an additional charge. Most packages of this length will be large enough that both the over-length and over-girth charges applied.
Can my small package ship internationally?
Yes. Fed Ex delivers packages all over the world, and will process customs duties and taxes for a fee.

FAQ'S HEAVY FREIGHT / COMMON CARRIER / SEMI-TRUCK DELIVERIES
Why is my order shipping heavy freight and not by Parcel?
Most items we sell are too large or too heavy to ship using a small parcel carrier, making the most efficient option to ship using a common carrier or heavy freight carrier. Freight shipments are the best choice for shipments weighing between 150 pounds (68 kgs) and 15,000 pounds (6,800 kgs). For orders greater than 15,000 pounds (6,800 kgs), orders are transported by Full Truck Loads or dedicated delivery.
Can I reroute a freight shipment before it has been delivered? Is there an extra charge?
Yes, shipments can be rerouted to a new delivery address prior to delivery. A fee will be charged. Please contact your sales representative with your new destination so that additional fees can be calculated.
Who will actually transport my shipment?
Zoom Blowers utilizes a network of carriers to provide our customers with the best prices, service, and transit times. The carrier assigned to your shipment will be determined based on this criteria the day your order ships. Specific carrier and tracking information will be available upon request the day after shipment.
What is residential/non-commercial/limited access delivery?
Any destination not defined as a business is classified as a residential, non-commercial, or limited access area. Carriers define a business as a location that opens and closes to the general public at set times each day in normal business areas. Examples of areas that are not standard business locations include:
- Private Residences/Apartment Complexes
- Some Schools (especially those without receiving docks)
- Businesses Conducted from Residences
- Military Bases/Installations
How do I unload the truck?
You should assume that your product will be delivered on a tractor/trailer rig that uses a 53 foot enclosed trailer. It is the truck driver's responsibility to make sure that your product is brought to the rear of the trailer, but it is the customer's responsibility to unload the product. The best way to unload freight shipments is at a commercial height truck dock, using a forklift. If this isn't feasible, the product can be unloaded by hand out of the rear of the trailer.
Can my shipment be delivered to my residence? Are there additional fees?
Yes, and yes. Residential delivery is available for an additional fee
Lift-gate delivery may also be an option in some areas, however keep in mind that lift-gate delivery works best with shorter items (less than 72"/1.8 m square), and most canopy tent components are 96"/2.4 m to 263"/4.1 m long, meaning some hand unloading may still be necessary.
What is lift-gate delivery?
Lift-gate delivery means that the truck will have a platform on the rear of the truck that can lower to the ground. Tractor trailers are approximately 56" (1.4 m) above the ground, designed to load and unload at a loading dock or with a fork-lift. If your delivery location does not have a loading dock or fork-lift and the item is too heavy to remove from the trailer by hand, a lift-gate will come in handy. Additional fees will apply for tailgate delivery service.
The driver will bring any items to the gate for you to unload. You must be available to take the items from there. Lift gates are ideal for deliveries to residential areas, as well as commercial areas that have no docks like stores.
Do I need lift-gate delivery?
Due to the additional fees and difficulty in arranging lift-gate delivery, there are several ways to avoid paying lift-gate delivery costs. Before deciding on lift-gate delivery, consider whether you have:
- A loading dock or forklift
- The individual items in your shipment are light enough for you to remove by hand
- You can drive and pick up the freight from the closest delivery terminal (terminal delivery is often a good way to save both lift-gate and residential delivery fees)
Is lift-gate delivery service always available?
No. It's important to ask in advance if you will require lift-gate delivery as most trucks are not equipped with a lift-gate. Carriers are not obligated to provide trucks with lift gates when trucks or operators are not available.
If the freight has left the Zoom Blowers distribution center and is in transit, it is unlikely that lift-gate service can be arranged if not previously requested. This is especially true if your freight is loaded in the middle of the truck with other deliveries that have to be made along the route
Do I need to be present for delivery?
Will the carrier call or notify me when they are coming?
This answer depends on whether the delivery is to a residential or business location.
When the product arrives at the freight company's terminal nearest to your destination, the freight dispatcher will call you to set up a delivery date and time at your location. It is important that the freight company has your cell phone or work phone number so that they can make immediate contact with you and not delay the delivery. You will be able to schedule a "delivery window," or period of time when the delivery may arrive. This allows the drivers to accommodate varying levels of traffic and time at different stops.
If your product is being delivered to a recognized business (not a business that is located at a residence) having normal business hours and the facilities for unloading your product, then you will most likely not receive a call scheduling delivery.
Some businesses provide an "arrival call" around 30 minutes prior to the arrival of their truck. This is a service offered by shipping companies and varies company to company. When on the phone with the freight dispatcher you can ask if they offer these calls. As Zoom Blowers does not own or operate the shipping companies, we have no control as to whether or not this service is available at any given time.
What happens if the products I received are damaged or lost? Should I refuse delivery?
No, customers should not refuse their delivery based on damage or shortages.
All products should be counted for accuracy and inspected for damage prior to acceptance. If you determine that your shipment has been mishandled in transit, note all damaged and missing materials on the delivery receipt and contact your customer service representative for claims processing or replacement parts. If you do not make a note on the delivery receipt about damage, the chances of a freight claim being honored are very small. Shipping any product carries the risk of the product becoming lost or damaged. Products may be picked up at our Distribution Center to bypass the shipping process.
Will Zoom Blowers replace my order if it is delivered damaged?
Zoom Blowers is not liable for freight claims and damages sustained during shipping, but we will assist customers through the claims process.
It is the freight company's responsibility to deliver the shipment in good condition, and the consignee's responsibility to inspect the shipment and notate any and all damages or shortages. If noted, it is the duty of the consignee to file the freight claim. The customer is bound by the carrier's limits of liability per the rules and regulations of the carrier, as noted in their specific tariffs.
What does "FOB origin" mean?
"FOB" stands for "Free on Board," indicating the point where liability, ownership of the goods, and title for shipment are transferred from the seller to the buyer. All products shipped by Zoom Blowers are shipped "FOB origin" which means the buyer pays the shipping cost and takes responsibility for the goods when the goods leave the shipping point.
Can you 100% guarantee delivery time and date?
No. Zoom Blowers can give you an estimate as to when you should receive your product, but we can't guarantee certain delivery times on that date.
If you must have a product on a certain day, make sure to order as far as possible prior to your event (2 weeks for in-stock items)
Can I arrange my own freight pickup?
Yes, we can accommodate these requests. There are a few additional steps that need to be completed for customer-arranged freight pick up.
- Customer-arranged carriers must furnish a Bill of Lading.
- An additional fee is charged to cover additional paperwork for non-contracted shipping companies.
Can I pick up my order myself?
Yes. Once you call ahead and schedule a pickup time (between 2:00 pm and 5 pm), you can pick up your order at the Zoom Blowers Distribution Center located in Buffalo, NY. There are no extra packaging fees if our products are loaded on your truck and/or trailer. All customer pickups must be prepaid and have the pickup date and time scheduled.
I don't have a truck dock or the space for the delivery, can I pick up my order at the carrier's freight terminal?
Yes. Freight companies have hundreds of terminals located throughout the USA & Canada. We can find the closest freight terminal to your location. Once your shipment arrives at the terminal, the freight dispatcher will give you a call to arrange pickup within 48 hours of the call. Due to the range of terminal operating hours and loading procedures, you may want to call the terminal in advance to ask about procedures. Terminal pick up requires identification, and most locations will load the product into a trailer or pickup truck.